Contributions (in $) to support my productions may be made here
To make a
donation in
euros,
click
here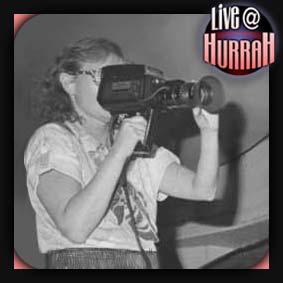 In 1980, the David Bowie promo video for FASHION was filmed at HURRAH. From the opening shot of the clip to the end, all of the scenes showing David Bowie and the band are shot on the HURRAH stage and dancefloor. We see the club draped in a khacky grey canvas fabric which must have been rented because normally the decor was black. There is some choreography on the dancefloor where you can see the characteristic faceted mirror wall which distinguished HURRAH's decor, creating a real-life effect that was somewhat like a magic lantern. There are ancillary scenes shot throughout NYC and some studio footage, the funniest stuff, which may have been shot anywhere.
I was invited to help out on this shoot but declined since I was working til 4:00 A.M. the night before and the shoot was in the afternoon while the club was closed to the public. The clip was produced by Tony Visconti who also produced and occasionally performed on many of Bowie's albums. The director was David Mallet, and the clip was shot on Beta-Cam video.
I did coincidentally work on a different music feature with David Mallet a year earlier, "Eat to the Beat", the Blondie laser disk. I did costumes & decor for one of the songs and was assistant to the art director throughout the production.
David Bowie was a friend of the club owner, Robert Boykin, which was how he came to choose HURRAH for a location. He sometimes came to the club to see shows and was there the night BAUHAUS played. He watched the show from my videojocley booth while I was onstage shooting.
Another little known fact I would like to share is that David Bowie came to the aid of his friend Klaus Nomi at the end when he needed help the most. This kind fidelity has always touched me.
My films
are totally self-financed, so any help is very encouraging. If you would like to contribute to a specific project, please state that with your contribution.