To purchase the


DANSPAK 1-2-3 DELUX DVD

using PayPal, click on the button above for purchasing in euros. To pay by check, send me an e-mail to request the mailing adress.
To pay with dollars, use the paypal button under the video clip on main page.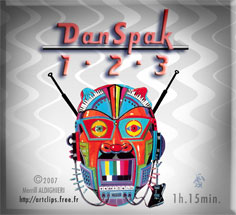 PROGRAM :

DANSPAK 1
Man Parrish- "Hip Hop, Bee-bop, Don't Stop"
Shox Lumania "Pointy Headgear", "FALLING"
Richard Bone- "Alien Girl"
Living- "Boat Talk"
DANSPAK 2
Jim Carroll Band - "Sweet Jane"
Lenny Kaye Connection- "I've Got a Right"
Michael Musto - "Jimmie, Gimmie Your Love"
Strange Party - "Imitators"
Go Ohgami - "Kids on the Street"
Jason Harvey - "Easy Street"
DANSPAK 3
Jason Harvey- " In Hollywood"
Carl Anderson - "Buttercup"
Prince Charles- "Skin Tight Tina"
The Ordinaires- "Grace", "Industry"
Go Ohgami- "Sleeping the Town"
This is the new DELUX DVD mastering from the original analogue masters and also includes some new unreleased bonus clips. Custom duplication upon demand on high quality DVD-R stock. Jewel plastic box with hand-made black & white cover. The DVD menu has random song access.