For a complete list of books by Kevin Kling, regard her
press kit >
Pour une liste compléte des livres par Kevin Kling, regardez son
dossier de presse >
"We all share the same heritage, despite the borders of countries,
race and religion:
a Father, Mother, perhaps brothers and sisters, the knowledge of love, emotions, the things to which we are indestructably attached remain the same for us all.

These photographs spanning over 20 years from across the world allow us a glimpse at some of these faraway lives. This book is a celebration of the life into which we are born."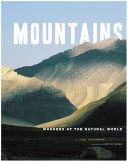 titre anglais:
"MOUNTAINS :
MASTER WORKS OF THE EARTH "
featuring Kevin Kling's photographs and text by Paul Tapponier will be out this October.