home
catalogue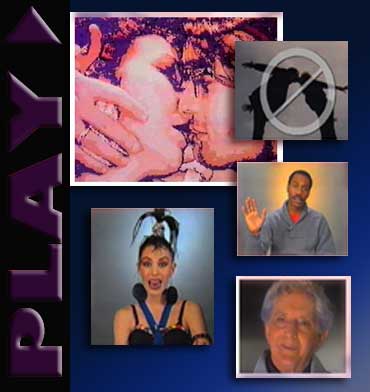 Featured are the cool sardonic witticisms of author/raconteur Quentin Crisp, who first captured the public's eye with his autobiography "The Naked Civil Servant". In amusing
contrast to Quentin are the exotic popisms of rock personality Spider Wider , the lyricist and percussionist for the South African group Via Afrika. Spider's striking musical and visual talents gained wide notice through her performance with the Artists Against Apartheid on the "Sun
City" record and video. New York poet and performer Emily XYZ expresses the "alphabet city view" with a razor edge. The eloquent actor Joe Morton has the most sentimental perspective of all.
THE KISSING BOOTH
This half-hour program is a playfully provocative dialogue on sexual philosophy, seduction, romance, love, and the perfect kiss. It interweaves
computer animation, stylized drama, and the frank disclosures of four on-camera interviews.
windows media 4,2 Mg. .asf