These themes served as springboards for discussions durring the daily open "surfing forums"....

1. OLD ATLANTIS
Atlantis (àt-làn´tîs), in Greek mythology, a large island in the western sea.
PLATO describes it as a UTOPIA destroyed by an earthquake. Questions as to its existence have provoked speculation over the centuries. One theory holds that it was a part of the Aegean island of THERA that sank c.1500 B.C.

project:
STORIES OR VISUALS TO DESCRIBE THIS LOST UTOPIA.
web links: Atlantis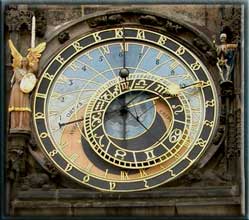 2. NEW ATLANTIS :
TIME CAPSULE
Some scientists predict that Holland could disappear into the sea in the next 15 years! If Atlantis was an advanced culture that was swallowed by the sea, could Holland become the New Atlantis?

project:
What would you put in a time capsule for a future generation to discover your civilization? Here are some ideas for stories or pictures:

- If you would only leave a list of important questions to define your culture, what would they be?
- Make a self-portrait of you in your culture.
- List or show 3 objects to represent your civilization.
weblinks: Time Capsules . ICE . BUBBLES ON MARS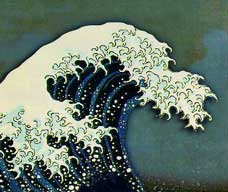 3. FLOODS & TSUNAMIS Many cultures have survived great floods. Holland has a tradition of innovation in dealing with water. The flood in 1953 in Zeeland saw the dawn of many advances in underwater architecture, and new ways to control the water level. Japan is also an island with advanced ways of knowing the water. They have built the most elaborate wall that can listen to the ocean floor, to warn them of a tsunami.

project:
- If you could save only 3 things from a tsunami, what would they be?

All responses,
whether they are fantastic, science fiction, serious or comic, are welcome.
weblinks: Zeeland Flood Film . Zeeland Flood (text in english) . Art,Tsunami . HOKUSAI, the Great Wave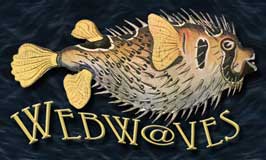 4. WORLD-FISHBOWL Make a fish and let it swim in this"virtual aquarium."

Attach your jpeg and send it to >>>MICKIE PHIN
for inspiration, check out these sites:
(more to come)